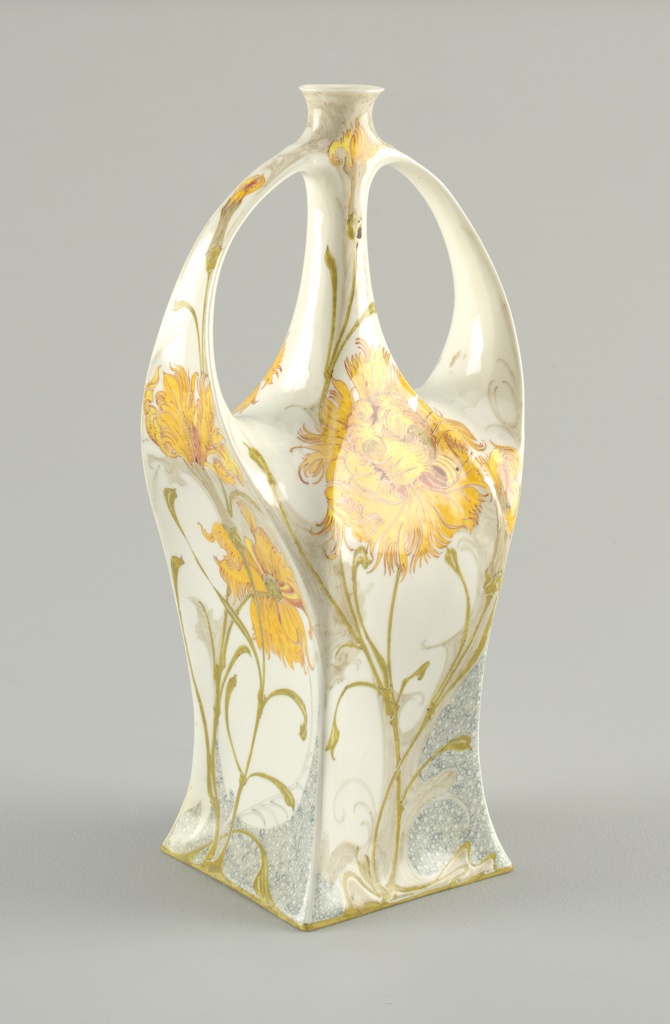 This is a vase. It was painted by Samuel Schellink and manufactured by Rozenburg Pottery and Porcelain Factory. It is dated 1903 and we acquired it in 1995. Its medium is porcelain, vitreous enamel. It is a part of the Product Design and Decorative Arts department.
This object was featured in our Object of the Week series in a post titled Art Nouveau Dance.
This object was donated by Arthur G. Altschul. It is credited Gift of Arthur Altschul.
Our curators have highlighted 3 objects that are related to this one.
Its dimensions are
H x W x D: 28.7 x 14 x 10cm (11 5/16 x 5 1/2 x 3 15/16in.)
It has the following markings
On underside of vase: [1] a crown above an image of a heron with "Rozenburg" above and "den Haag" below, stamped in black (factory mark). [2] two outlines of crowns above and to the right of factory mark, stamped in black [3] the letter "S" with a line down the middle, painted in black (painter's mark). [4] a four pointed star with four eminating rays, painted in black (date mark; 1903). [5] "865" underlined, painted in black (inventory number). [6] "170", molded raised numbering (model number).
Cite this object as
Two-Handled Vase Vase; Manufactured by Rozenburg Pottery and Porcelain Factory (Netherlands); Painted by Samuel Schellink (1876 – 1958); Netherlands; porcelain, vitreous enamel; H x W x D: 28.7 x 14 x 10cm (11 5/16 x 5 1/2 x 3 15/16in.); Gift of Arthur Altschul; 1994-117-2