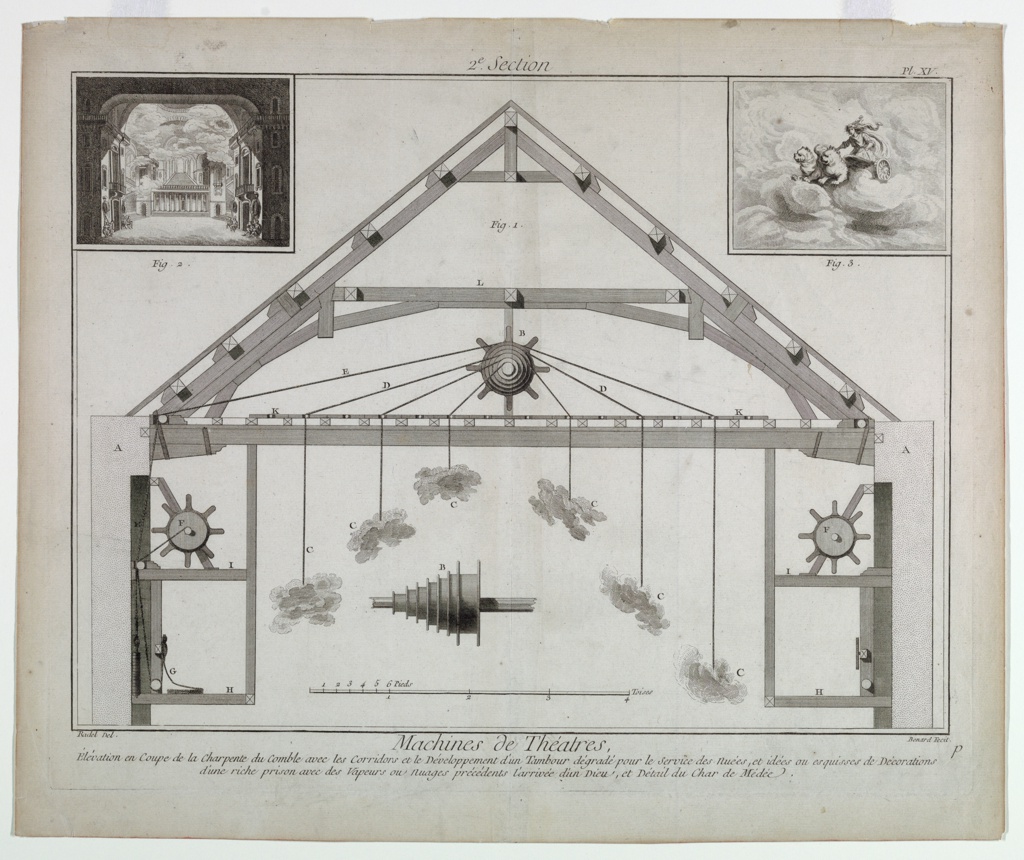 Print, Machines de Théatres (Theatrical Machinery), pl. XV, vol. 10 from Encyclopédie, ou, arts et des métiers (Encyclopedia, or a Systematic Dictionary of the Sciences, Arts, and Crafts)
This is a Print. It was designed by Robert Bénard and after Radel and published by Denis Diderot. It is dated 1772 and we acquired it in 1977. Its medium is engraving on paper. It is a part of the Drawings, Prints, and Graphic Design department.
It is credited Gift of Mr. and Mrs. Richard B. Freund.
Its dimensions are
39.1 × 47.2 cm (15 3/8 × 18 9/16 in.)
It is inscribed
Printed in black ink, upper center: 2e Section; upper right: Pl. XV; lower center: Machines de Théatres, / Élévation en Coupe de la Charpente du comble avec les Corriders et le Développement d'un Tambour degrade pour le service des nuées, et idées ou esquisses de Décorations / d'une riche prison avec des Vapeurs ou nuages précédents l'arrivée d'un Dieu, et Détail du Char de Médée
Cite this object as
Print, Machines de Théatres (Theatrical Machinery), pl. XV, vol. 10 from Encyclopédie, ou, arts et des métiers (Encyclopedia, or a Systematic Dictionary of the Sciences, Arts, and Crafts); Designed by Robert Bénard ; France; engraving on paper; 39.1 × 47.2 cm (15 3/8 × 18 9/16 in.); Gift of Mr. and Mrs. Richard B. Freund; 1977-86-34