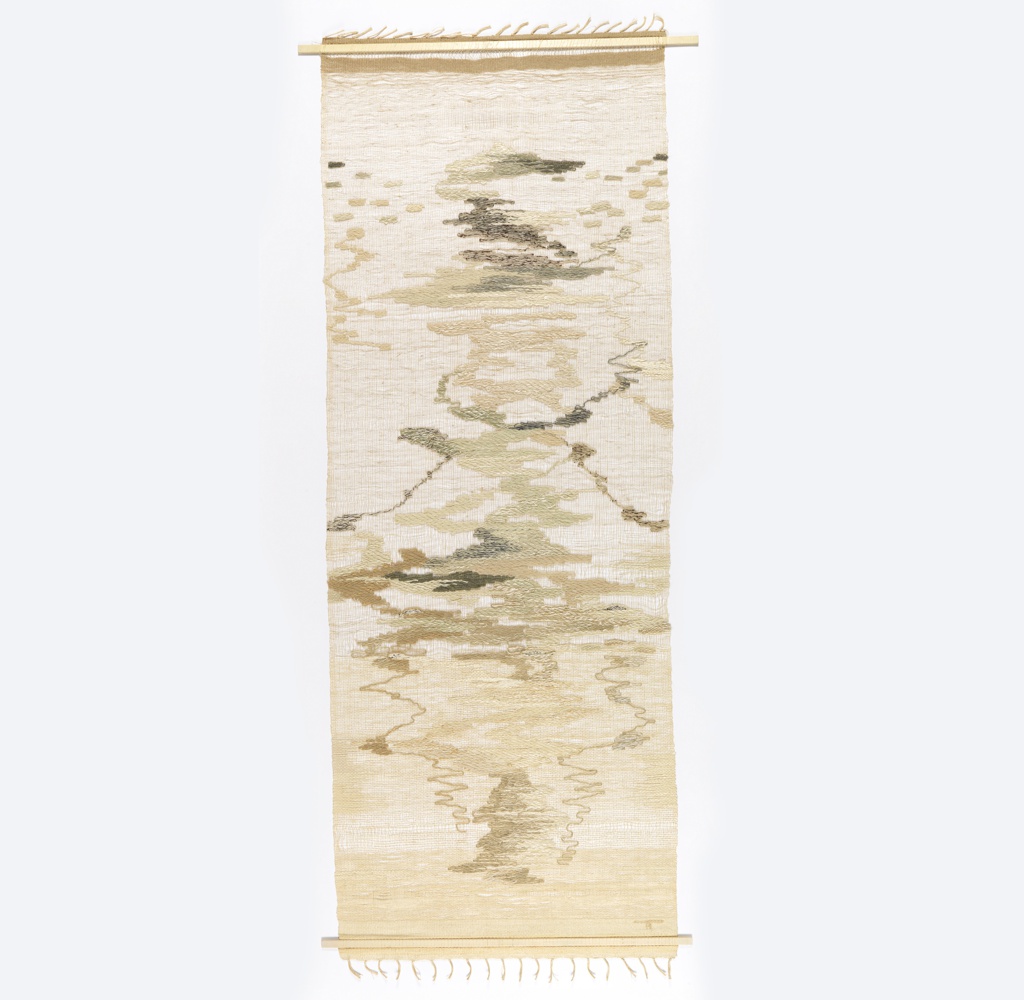 This is a Hanging. It was designed by Lenore Tawney and woven by Lenore Tawney. It is dated 1959–60 and we acquired it in 1964. Its medium is linen, wool, silk and its technique is plain weave with discontinuous wefts, non-horizontal wefts (tapestry). It is a part of the Textiles department.
Lenore Tawney was a transformative figure in the fiber arts movement, but she studied sculpture before turning to weaving, and moved seamlessly between the two. The improvisational nature of her weaving rejected the grid imposed by the loom, emphasizing the individual trajectory of each thread.
Vitae showcases one of her major technical innovations: the "open warp" technique, in which fluid forms of textured yarns are contrasted against diaphanous grounds of exposed warps, like a drawing floating in space. Clearly intended to hang away from the wall, this piece uses transparency like a sculptural negative space. Her approach was controversial at the time: "All I did was weave the design and leave the rest of the warp unwoven. Why not? It's against the rules, and those people who go by the rules were very against it."
Tawney continued her trajectory toward woven sculpture with the development of open-reed weaving, which allowed her to move still further from the grid, creating expressive three-dimensional forms in space.
This object was featured in our Object of the Week series in a post titled Drawing in Air.
This object was donated by Miss Elizabeth Gordon. It is credited Gift of Elizabeth Gordon.
Our curators have highlighted 8 objects that are related to this one. Here are three of them, selected at random:
Its dimensions are
H x W: 228 x 81.3 cm (89 3/4 x 32 in.)
Cite this object as
Hanging, Vitae; Designed by Lenore Tawney ((American, 1907–2007)); USA; linen, wool, silk; H x W: 228 x 81.3 cm (89 3/4 x 32 in.); Gift of Elizabeth Gordon; 1964-24-65
This object was previously on display as a part of the exhibition Making Design.