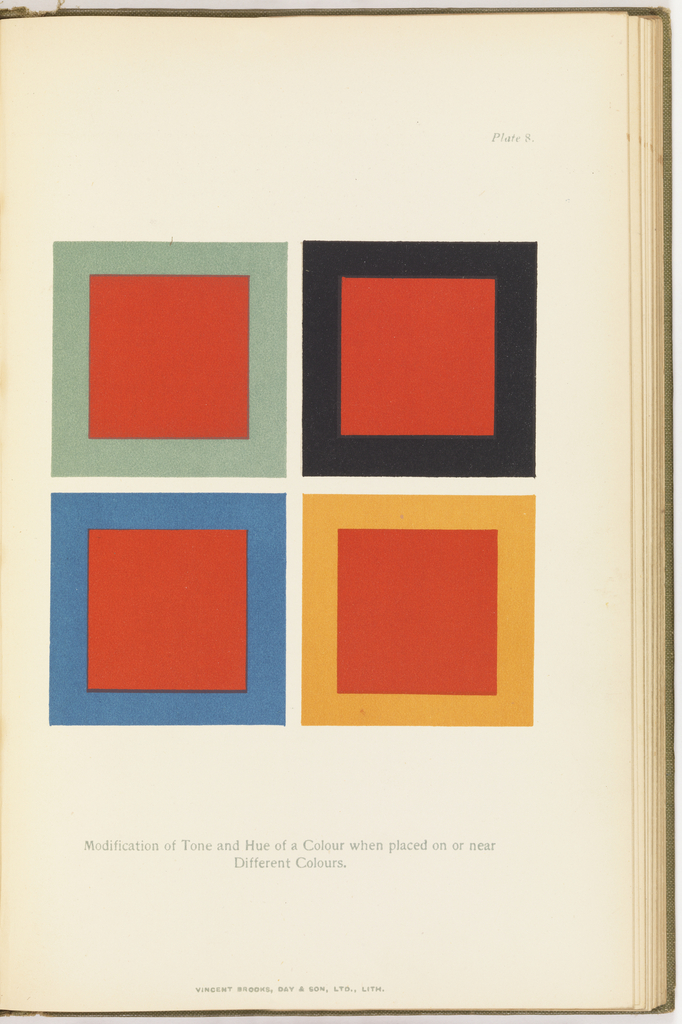 Object Timeline
| | |
| --- | --- |
| | |
| -0001 | |
| 1903 | Work on this object began. |
| 2022 | |
Book Illustration, Colour Harmony and Contrast: For the Use of Art Students, Designers, and Decorators...; Modification of Tone and Hue of a Colour when placed on or near Different Colours, pl. 8
This is a Book Illustration. It was written by James Ward and published by Chapman and Hall, Ltd. and lithographer: Day & Son. It is dated 1903. Its medium is lithograph. It is a part of the Smithsonian Libraries department.
Color—or the lack thereof—inspired Ward to write this book. He bemoaned the colorlessness of the modern building exteriors and the "indescribable drab colour" of the interiors. Ward set out rules of how color should be applied and, in doing so, articulated basic color theory. He proposed that, "however crude the colours may be, it is their arrangement, quantity, and proportion . . . that makes, or mars, the harmony . . ." Later, Josef Albers expanded upon Ward's concept with his studies of color interaction, in which he investigated the same idea—how the arrangement of colors impacts their perception.
It is credited Collection of Smithsonian Institution Libraries.
Its dimensions are
H x W: 30.5 × 24.1 cm (12 in. × 9 1/2 in.)