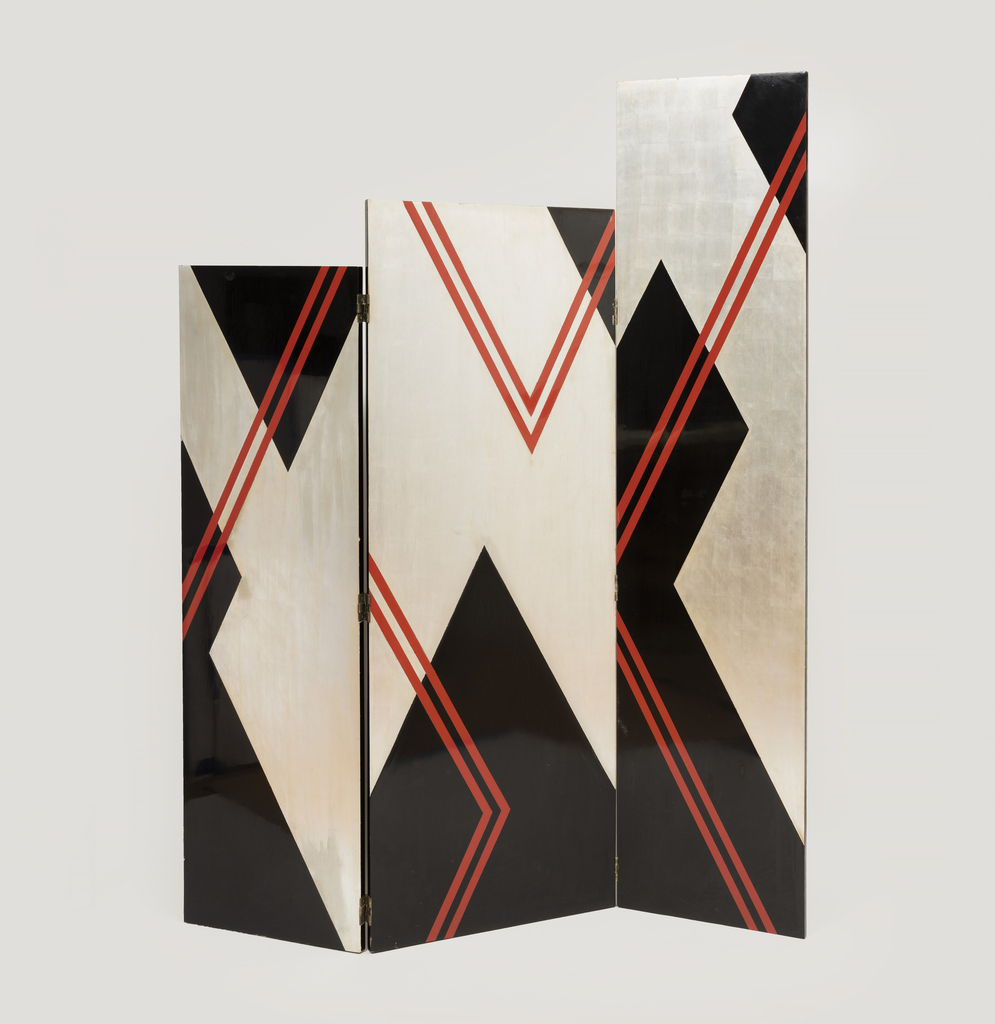 This is a screen. It was designed by Donald Deskey. It is dated ca. 1928. Its medium is silver leaf, lacquered wood, cast metal (hinges). It is a part of the Product Design and Decorative Arts department.
Donald Deskey saw newly fashionable screens during his time studying in Paris in 1920–22 and at the 1925 exposition, including examples by Émile-Jacques Ruhlmann and Jean Dunand with lacquering. From 1927 to 1931, Deskey produced decorative screens and accessories showcasing lacquering and bold colors, some retailed by Paul Frankl. The design and stepped form of this screen mirror the one used in Glendon Allvine's modernist Long Island house, which also featured Ruth Reeves's coverlet.
This object was donated by George R. Kravis II. It is credited Gift of George R. Kravis II.
Our curators have highlighted 4 objects that are related to this one. Here are three of them, selected at random:
Its dimensions are
H x W (Right Panel): 198.1 × 46.4 cm (6 ft. 6 in. × 18 1/4 in.) H x W (Center Panel): 168.3 × 61 cm (5 ft. 6 1/4 in. × 24 in.) H x W (Left Panel): 153 × 46.4 cm (60 1/4 × 18 1/4 in.)
Cite this object as
Screen; Designed by Donald Deskey (American, 1894–1989); silver leaf, lacquered wood, cast metal (hinges); H x W (Right Panel): 198.1 × 46.4 cm (6 ft. 6 in. × 18 1/4 in.) H x W (Center Panel): 168.3 × 61 cm (5 ft. 6 1/4 in. × 24 in.) H x W (Left Panel): 153 × 46.4 cm (60 1/4 × 18 1/4 in.); Gift of George R. Kravis II; 2018-22-29