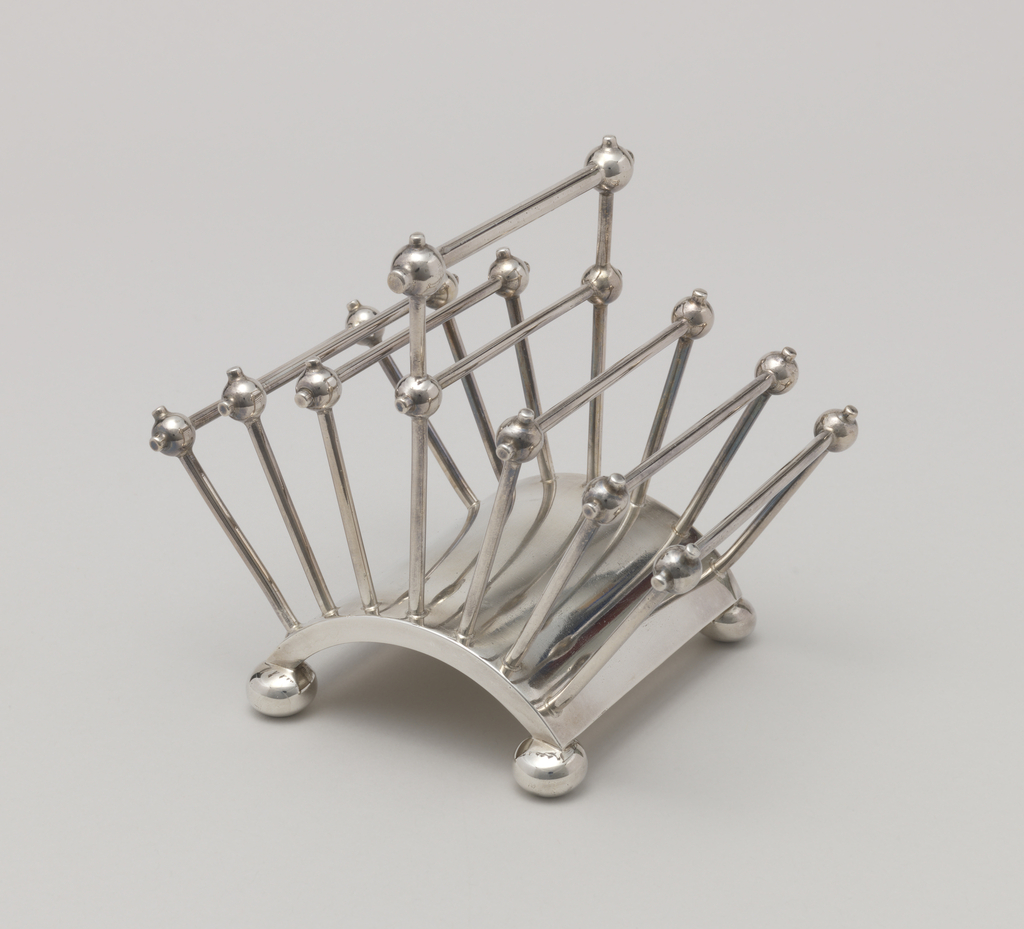 This is a Toast Rack. It was designed by Christopher Dresser and manufactured by Hukin & Heath and distributed by Degler. It is dated designed 1881 and we acquired it in 1985. Its medium is silver-plated metal. It is a part of the Product Design and Decorative Arts department.
Dresser believed in an underlying order, unity, and symmetry derived from nature, and the stems and rivets of this toast rack are remarkably similar to his studies on branch growth, as seen in the facsimile drawing nearby. This is one of many silver and electroplated wares Dresser designed for Birmingham silversmiths Hukin & Heath. Dresser's functional objects reveal not only his scientific background, but also his concern with limiting ornamentation to make objects affordable and suitable for serial production
It is credited Gift of Miles Lourie.
Our curators have highlighted 4 objects that are related to this one. Here are three of them, selected at random:
Its dimensions are
H x W x D: 12.7 x 14.6 x 9.8 cm (5 x 5 3/4 x 3 7/8 in.)
It has the following markings
Stamped underside of base: "H & H [for Hukin & Heath] / Eagle [trademark for firm] / 2556 / [registry mark 9 May 1881] / Degler-Norwich."
Cite this object as
Toast Rack (England); Designed by Christopher Dresser (Scottish, 1834 – 1904); Manufactured by Hukin & Heath (United Kingdom); Distributed by Degler; silver-plated metal; H x W x D: 12.7 x 14.6 x 9.8 cm (5 x 5 3/4 x 3 7/8 in.); Gift of Miles Lourie; 1985-105-1