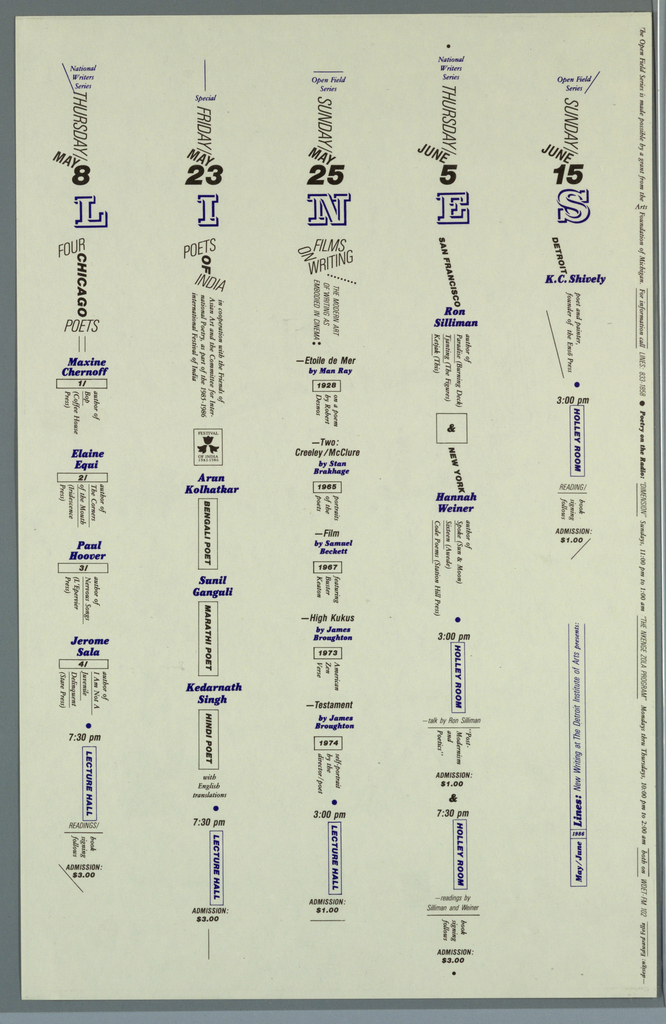 Object Timeline
| | |
| --- | --- |
| 1986 | Work on this object began. |
| 1995 | |
| 2015 | |
| 2022 | |
Announcement, Poster for Lines: New Writing Series at the Detroit Institute of Arts, Detroit, Michigan, May/June 1986
This is a Announcement. It was designed by Edward Fella. It is dated 1986 and we acquired it in 1995. Its medium is offset lithograph on off-white paper. It is a part of the Drawings, Prints, and Graphic Design department.
This object was donated by Edward Fella. It is credited Gift of Edward Fella.
Its dimensions are
43.2 x 27.9 cm (17 x 11 in. )
It is signed
Signature imprinted in black ink, lower right corner, running upward, sideways: -design: Edward Fella
It is inscribed
Recto: Imprinted in blue across upper thrid of sheet, L I N E S; in black and blue, in five vertical text blocks across sheet: National/ Writers/ Series/ THURSDAY/ MAY 8/ FOUR/ CHICAGO/ POETS/ Maxing/ Chernoff/ 1/*/ author of/ Bop...[gives biographic information about participating writers, description of events, dates, times, locations, and admission fees]... ADMISSION:/ $1.00; in blue across lower right quadrant, running upward, sideways: May/*/ June 1986 Lines: New Writing at The Detroit Institute of Arts presents:; in black, across right edge, running downward, sideways: The Open Field Series is made possible by a grant from the Arts Foundation of Michigan. For information call LINES: 833-1858 Poetry on the Radio: "DIMENSION" Sundays, 11:00 pm to 1:00 am "THE NKENGE ZOLA PROGRAM" Mondays thru Thursdas 10:00 pm to 2:00 am both on WDET-FM 102 Verso: Imprinted in black from upper edge to center: L/ May 8 THURSDAY/ CHICAGO POETS/ Maxine/ Chernoff... [lists events, writers, dates, interspersed between letters of title]... LINES; across lower left quadrant: THE DETROIT/ INSTITUTE/ OF ARTS/ 5200 Woodward/ DETROIT MI 48202; across lower right quadrant: Non-Profit Organization/ U.S. Postage/ PAID/ Founders Society/ Detroit Institute of Arts * The "/" is included in the text.
Cite this object as
Announcement, Poster for Lines: New Writing Series at the Detroit Institute of Arts, Detroit, Michigan, May/June 1986; Designed by Edward Fella (American, b. 1938); USA; offset lithograph on off-white paper; 43.2 x 27.9 cm (17 x 11 in. ); Gift of Edward Fella; 1995-42-38