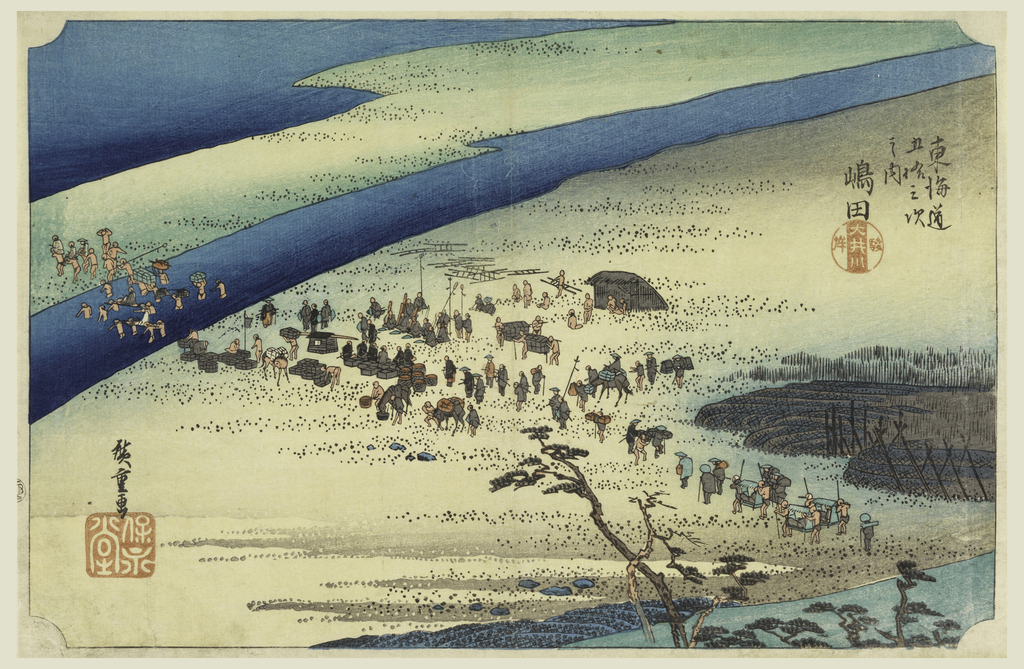 Print, Shimada, Travelers Crossing the Oigawa, in The Fifty-Three Stations of the Tokaido Road (Tokaido Gojusan Tsugi-no Uchi)
This is a Print. It was created by Ando Hiroshige. It is dated ca. 1834 and we acquired it in 1948. Its medium is woodblock print (ukiyo-e) on mulberry paper (washi) . It is a part of the Drawings, Prints, and Graphic Design department.
This object was donated by Mary Rutherford Jay. It is credited Gift of Mary Rutherford Jay.
Its dimensions are
23.6 x 36.1 cm (9 5/16 x 14 3/16 in.)
It has the following markings
Seal, lower left: Hoyeido.
It is signed
Woodblock print (ukiyo-e) on mulberry paper (washi) 廣重筆
It is inscribed
Inscribed in black ink, upper right, Japanese characters and stamp in red ink
Cite this object as
Print, Shimada, Travelers Crossing the Oigawa, in The Fifty-Three Stations of the Tokaido Road (Tokaido Gojusan Tsugi-no Uchi); Ando Hiroshige (Japanese, 1797 - 1858); Japan; woodblock print (ukiyo-e) on mulberry paper (washi) ; 23.6 x 36.1 cm (9 5/16 x 14 3/16 in.); Gift of Mary Rutherford Jay; 1948-134-24