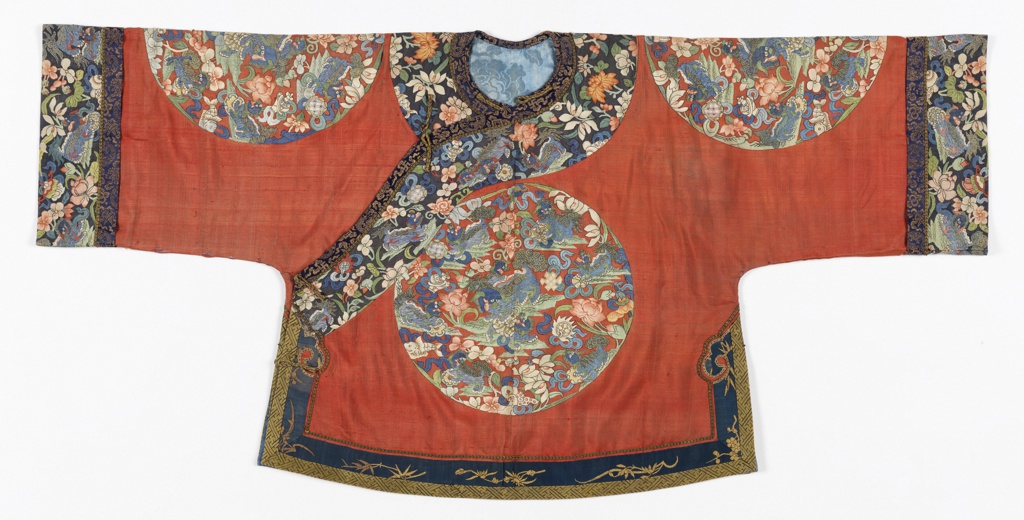 Object Timeline
| | |
| --- | --- |
| 1925 | Work on this object ended. |
| 1960 | |
| 2012 | |
| 2023 | |
Woman's Short Jacket (China)
This is a Woman's short jacket. It is dated late 19th–early 20th century and we acquired it in 1960. Its medium is silk, metallic yarns and its technique is medallions plain weave with discontinuous weft (tapestry or kesi); body twill weave. It is a part of the Textiles department.
The Qing imperial rulers (1644-1911) were of Manchu ethnicity, and ruled over a mostly Han population. For centuries, Manchu women were required to wear long one-piece robes and Han women two-piece outfits that included a jacket and skirt. Featuring elements of both traditions, this Manchu jacket demonstrates the increasing fusion of these fashions in the nineteenth century. Imperial decrees by the Qing emperors often criticized these trends, but to little avail. Contemporary ballads described how palace robes worn by Manchu women were "cut in the style of the short jacket and skirt," the short jacket (magua馬褂) being a key item in traditional Han dress.

The decorative focus of this jacket are the roundels of nine lions (jiu shi九獅) cavorting against a background of begonia, lotus, and cymbidium blossoms and auspicious Buddhist symbols like the wheel of law, endless knot, lotus, conch, and vase. The lion motif likely refers to "nine generations under one roof" – the punning ideal of a multi-generational Chinese household in which all family members live together in harmony (jiu shi tong tang九獅同堂). This garment also features multi-bordered sleeves and ruyi-shaped side borders, elements typical of Han dress.
This object was donated by Marian Hague. It is credited Gift of Marian Hague.
Its dimensions are
H x W: 62.9 x 125.7 cm (24 3/4 x 49 1/2 in.)
Cite this object as
Woman's Short Jacket (China); silk, metallic yarns; H x W: 62.9 x 125.7 cm (24 3/4 x 49 1/2 in.); Gift of Marian Hague; 1960-154-1