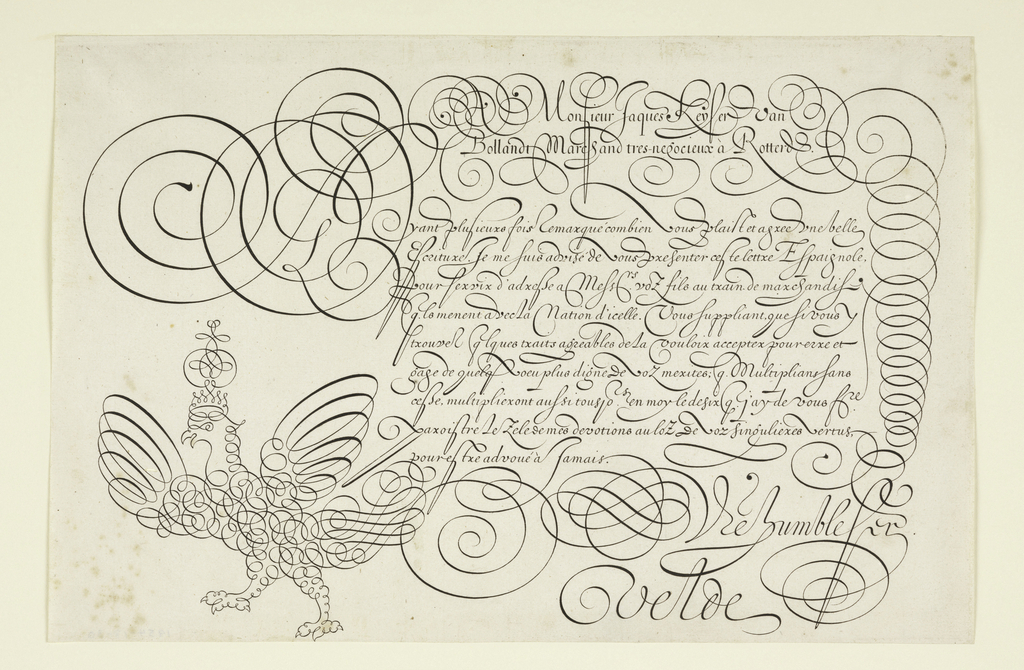 Print, Writing Example from Spieghel der Schrijfkonste. Tweede Deel (The Mirror of Art Writing, Second Part)
This is a Print. It was designed by Jan van de Velde I and engraved by Simon Weynouts Frisius. It is dated 1609 and we acquired it in 1954. Its medium is engraving on laid paper. It is a part of the Drawings, Prints, and Graphic Design department.
This object was featured in our Object of the Week series in a post titled Van de Velde's Famous Flourishes.
This object was donated by William J. Donald. It is credited Gift of William J. Donald.
Our curators have highlighted 15 objects that are related to this one. Here are three of them, selected at random:
Its dimensions are
H x W x D: 20.4 x 31.1 cm (8 1/16 x 12 1/4 in.) Mat: 35.6 x 45.7 cm (14 x 18 in.)
Cite this object as
Print, Writing Example from Spieghel der Schrijfkonste. Tweede Deel (The Mirror of Art Writing, Second Part); Designed by Jan van de Velde I (Netherlandish, 1569–1623); Engraved by Simon Weynouts Frisius (Flemish, ca. 1580–1628); Netherlands; engraving on laid paper; H x W x D: 20.4 x 31.1 cm (8 1/16 x 12 1/4 in.) Mat: 35.6 x 45.7 cm (14 x 18 in.); Gift of William J. Donald; 1954-18-30