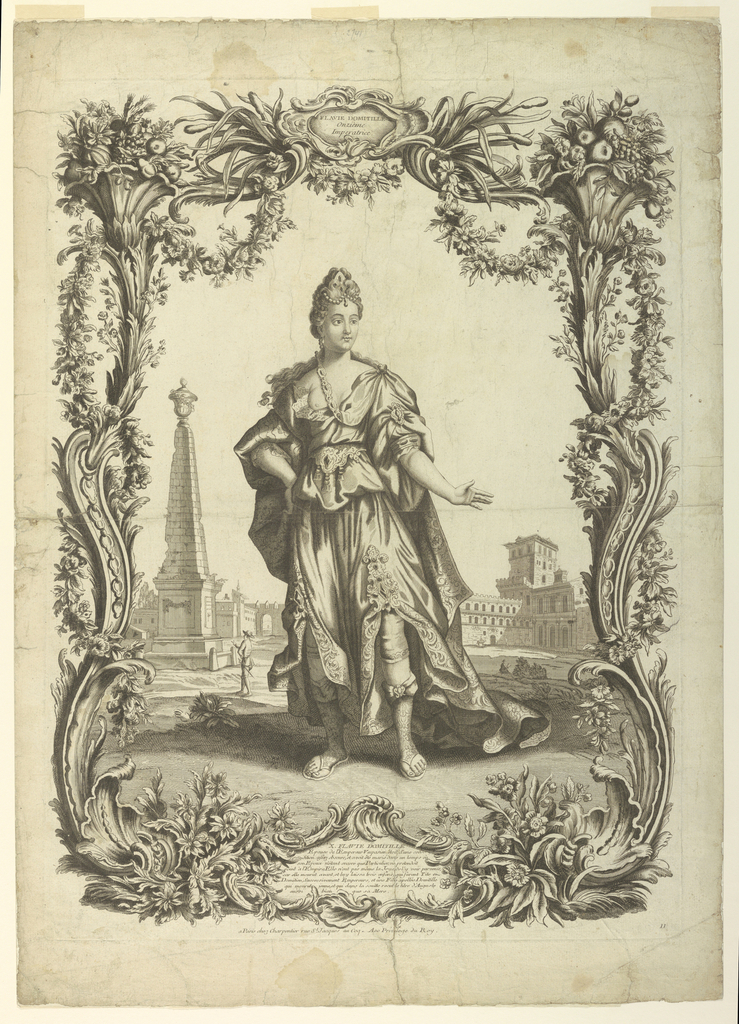 Print, Flavia Domitilla, Wife of the Emperor Vespasian, in escutcheon
This is a Print. It was print maker: Étienne Charpentier. It is dated 1750-1760 and we acquired it in 1914. Its medium is engraving with etching on paper. It is a part of the Drawings, Prints, and Graphic Design department.
This object was donated by Eleanor Garnier Hewitt and Sarah Cooper Hewitt.
Its dimensions are
Plate: 69.9 × 51.7 cm (27 1/2 × 20 3/8 in.) Paper: 80.6 × 57 cm (31 3/4 × 22 7/16 in.)
It has the following markings
Watermark: tablets with the firm of T. Dupuy and a Maltese cross in a circular chain.
It is inscribed
Top center: "FLAVIE DOMITILLE/Onzieme/Imperatrice." Bottom center, in an escutcheon, caption of nine lines, beginning: "X. FLAVIE DOMITILLE," and ending: "aussi bien que sa Mere." Address same as 1914-49-1, bottom center.
Cite this object as
Print, Flavia Domitilla, Wife of the Emperor Vespasian, in escutcheon; Print Maker: Étienne Charpentier (French, 1707 – after 1792); France; engraving with etching on paper; Plate: 69.9 × 51.7 cm (27 1/2 × 20 3/8 in.) Paper: 80.6 × 57 cm (31 3/4 × 22 7/16 in.); 1914-49-4