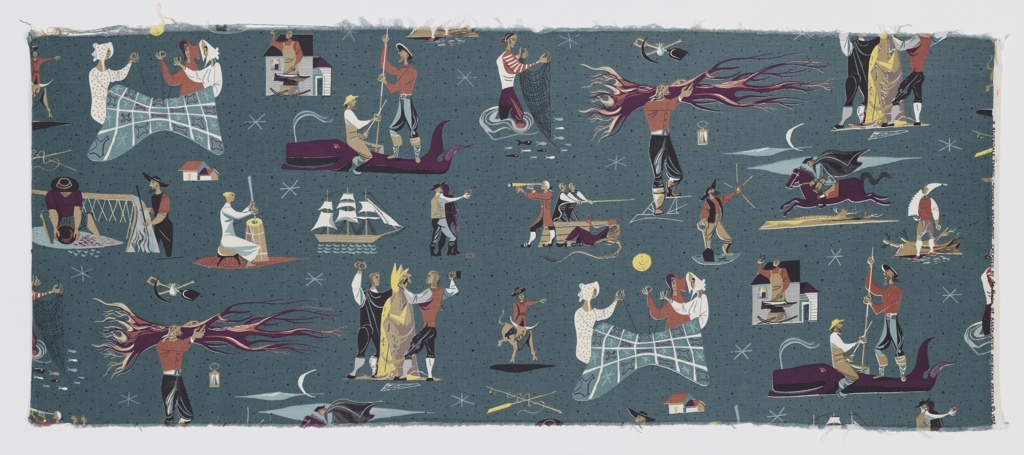 Object Timeline
| | |
| --- | --- |
| 1952 | Work on this object began. |
| 2016 | |
| 2017 | |
| 2022 | |
Textile, Pioneer Pathways
This is a Textile. It was designed by Anton Refregier (American, b. Russia (1905–1979) and produced by Associated American Artists. It is dated 1952 and we acquired it in 2016. Its medium is cotton and its technique is printed. It is a part of the Textiles department.
Pioneer Pathways was artist Anton Refregier's contribution to the eponymous collection of eight designs released by Riverdale Fabrics in 1952. The collection, which featured Americana-inspired illustrations, was one of Associated American Artists' first entries into the textile market; a series of Pioneer Pathways ceramics was released the same year. (1) The New York Times announced on March 7, 1952 that Macy's at Herald Square would introduce the collection and host a weeklong series of instructional decorating sessions on how the fabrics could be used to their best advantage.

American history and culture were among the favorite subjects of Refregier, who is best known for his WPA murals. A series he painted for a San Diego post office garnered attention in the late 1940s due to the murals' controversial depictions of tragic events in California's past.

In Refregier's Pioneer Pathways design, Paul Bunyan and Paul Revere appear among ordinary early Americans who fish, make quilts, churn butter, and dig for gold. This colorway features a blue-green ground speckled with black dots. The figures are mainly in maroon, orange, yellow, light blue, beige, black, and white.

A taupe version of this design (5826.70.2016) was featured prominently in the April 1952 issue of Living for Young Homemakers. (2) A red version was included in the 2015 exhibition "Art for Every Home: Associated American Artists, 1934-2000" at the Marianna Kistler Beach Museum of Art, which traveled to the Grey Art Gallery of New York University in 2016 and is set to open at the Syracuse University Art Galleries in early 2017.

Another of Refregier's textiles, Open Sesame (1994-38-10), is currently in the museum's collection.

(1) Gail Windisch, Sylvan Cole Jr., and Karen J. Herbaugh, Art for Every Home: Associated American Artists, 1934-2000 (Manhattan: Marianna Kistler Beach Museum, Kansas State University, 2016): 191.
This object was donated by American Textile History Museum. It is credited American Textile History Museum Collection, gift of Giles Kotcher.
Its dimensions are
H x W: 46.4 × 113.7 cm (18 1/4 × 44 3/4 in.)
Cite this object as
Textile, Pioneer Pathways; Designed by Anton Refregier (American, b. Russia (1905–1979) (American, b. Russia (1905–1979)); cotton; H x W: 46.4 × 113.7 cm (18 1/4 × 44 3/4 in.); American Textile History Museum Collection, gift of Giles Kotcher; 2016-35-2